Follow the simple steps below to create your own texture for Shepard's bedside cabin photo.
Background
Edit
Before preparing any new texture, it's imperative to know certain properties of the vanilla version. In our case, the cabin photo:
Uses DXT1 compression
Has mipmaps.
Is 256x256px in size, with a black bar on the right that's 85px wide.
If you use a texture larger than 256x256px, the black bar should stay proportionate (170px, 255px, etc). A replacement texture larger than 1024x1024 is unnecessary, considering the size of the photo in game.
Required Programs
Edit
Photo Editor (Paint.NET, GIMP, Photoshop)
ME3Explorer or Texmod
Instructions
Edit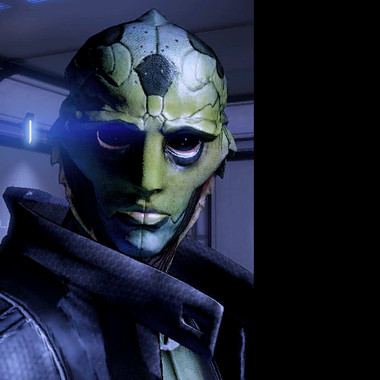 This tutorial will assume you're using Paint.NET for editing.
Download and install Paint.NET. Open the program when finished.
Go to File > New.
Create either a 512×512px canvas, or a 1024×1024px canvas. Keep the resolution set at 96px/in.
Use the Bucket Tool to fill the white canvas with black fill. Black color should be selected by default.
Open your desired image in Paint.NET or another photo-editing program.
Edit as you desire, but the final image must be either 342×512 OR 684×1024. (vertical rectangle)
Copy and paste the finished image into the square, black canvas you created. Use the 342×512 size for the 512-square canvas, the 684×1024 size for the 1024-square canvas.
The image should by default be placed to the far left, so there is a black bar to the right. If the image isn't placed there, use your arrow keys or mouse to relocate it.
Go to File > Save As.
Give your image a name and select "DirectDrawSurface (DDS)" from the "Save As Image Type" dropdown menu. Then click "Save".
Now select the appropriate texture parameters: DXT1, Range Fit, Perceptual, Generate Mip Maps, Super Sampling. Click "Ok".
Click "Flatten" when the following window pops up.
That's it! The DDS file can be loaded into TPF Tools and either installed directly into the game, or bundled into a TPF for use with Texmod. More advanced users may prefer to permanently applied it via Texplorer.
| | |
| --- | --- |
| | This tutorial has been adapted from the original by giftfish, as posted on the ThaneMOD website. |